Här har vi en affärsman med en egen stil. Hela looken kan vid första ögonkastet verka lite tråkig och enkel, och visst är detta en av de vanligaste klassikerna. Men jag vill främst visa hur man med ett så enkelt trick som en svart kavaj kan ändra stil totalt.

Det här är Fredriks konfirmationsblazer av märket Hugo Boss, det är alltså en mycket välsydd kavaj som han haft i snart tio år. Fortfarande fungerar den både till vardag och fest, det mina vänner är kvalitet. Om man tog av kavajen skulle Fredrik vara sitt vanliga t-skorta-jeans-jag igen, den vita skjortan är nämligen mycket vardagligare än den ser ut på bilden, den är av bomull och har lite olika mönster och tryck. Den svarta kavajne lyfter dock stilen till en helt ny nivå, såhär skulle han kunna gå klädd till såväl första dejten, arbetsintervjun som på en kväll ute på krogen, lagom uppstylad men ändå avslappnad.

Så alla unga och äldre herrar som läser detta, jag är övertygad om att de flesta av er ägen en svart kavaj (om inte köp en NU!), mitt råd till er är: ANVÄND DEN!




Fredrik är sällan seriös allt för länge åt gången!
Fredrik is seldom serious for long!




Vaför månne den här bilden får mig att tänka på Sverige??
Wonder why this picture makes me think of Sweden??

Here we have a business man with his own style! This look can at first glance seem a bit to simple and boring, and it is indeed one of the most common classics. But I'd like to highlight what a great difference the black blazer can make.

This is the jacket to Fredrik's confiramtion suit he got when he was 15, the brand is Hugo Boss and it is thus a very well made suit of high quality. After about ten years it still works both casualy and for the better parties, that my friends is quality! If we'd to take off the jacket Fredrik would once again be the ordinary jeans and t-shirt guy, the white shirt is actually a lot less dressy than it looks on the pictures. It is made of cotton with diffrent patterns and prints on. The black blazer though lifts the entire look to a whole different level.

This is an outfit for the first date as well as for a jobinterwiev or a night out clubbing! So gentlemen, young and old, I am quite certain most of you own a black suit (if not, BUY ONE). My advice to you is: USE IT!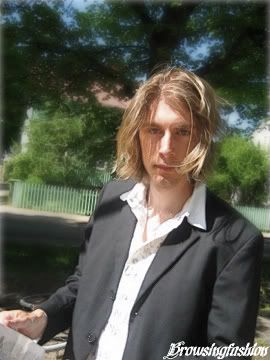 Give me the money, Give me the money! "Tom Criuse in Jerry Mcguire"



www.computerweekly.com