Här handlar vi secondhand i Åbo/ Secondhand in Turku:

UFF på humlegårdsgatan-
*överpris men bra läderjackor och välorganiserat!
*A bit overprice but they have nice leatherjackets and it's very well organized!

Frälsningsarme'n på Aningaisgatan-
*Råddigt och i första anblicken tantvarning, men här kan man hitta riktiga pärlor, väldigt billigt, speciellt skorna!
* A bit messy and at first glance old-ladywarning, but here you can find some real treasures, and often very cheap stuff, especially shoes!

Osto ja Myyntiliike på Aningaisgatan-
*Håller tyvärr på att stänga!! Här kunde du hitta allt mellan himmel och jord, om du skyndar dig kanske du ännu hinner ta en titt innan dörrarna stängs för gott!
*This shop is unfourtunately closing! It was a place with everything from silverspoons to vitage clothing, if you're fast you might still manage to get a glimpse before the doors shut for good!


Vaikka Mitä på Universitetsgatan-
*En riktigt guldgruva för äkta vintage kläder, väskor och skor. Trångt men välorganiserat och ett stort sortiment av smycken.
*A real goldmine for real vintage clothes, bags and shoes. It's very small but well organized and a big sortiment of jewellery.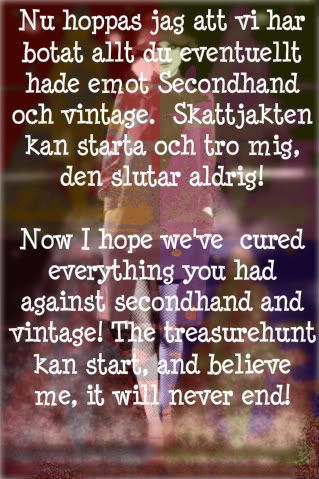 I Helsingfors skulle jag rekommendera robertsgatan, där hittar du både UFF och Emmaus, en annan UFF, två våningar finns på Fredriksgatan.

In Helsinki I'd recommend Robertsgatan, there you'll find both UFF and Emmaus, and another UFF, with two levels is at Fredriksgatan.


I Stockholm kan rekomenderas Judiths secondhand på Hornsgatan 75, på samma gata men på andra sidan finns både Myrorna och Missionsboden. En riktigt härlig och välorganiserad secondhandbutik är Emmaus på Götgatan, här finns allt, skivor, härliga jackor och SKOR!

In Stockholm Judiths secondhand on Hornsgatan 75 is an incredible secondhandshop, on the same street, but on the other side you'll find both Myrorna and Missionsboden. A lovely little and well organized shop you'll find on Götgatan, here in Emmaus you can come across almost anything, records, lovely jackets and SHOES!