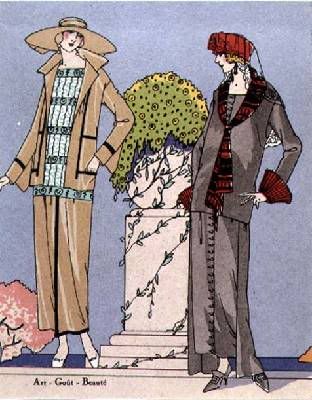 1920-talet var det första decenniet där modet verkligen steg in i en modern era och fick den form det har än idag. Modet blev ett cykliskt fenomen, snabba växlingar och kankse det viktigaste av allt -man vågade experiemntera och vara banbrytande som aldrig förr.
Det första världskriget och tiden efter innebar många sociala och samhälleliga omvälvningar. Under kriget hade kvinnan fått sköta många av de traditionellt mansdominerande yrkena och uppgifterna, kvinnan hade insett sin potential och sin underlägsna ställning i samhället. Efterkrigstiden präglades av revolution och optimism på alla plan, kvinnan ville omdefiniera sig själv och gjorde detta bl.a. genom att åtaga sig en ny social roll. Den sk "flapper" stilen och livsstilen var ett steg i frigörelsen.
Kvinnan klippte håret kort, "bobbat hår", korsetterna kastades och hon började använda klänningar som till modellen liknar ett rör. De var löst sittande, bekväma och friare. En flapper levde det goda livet, hon lyssnade på Jazz-musik, dansade "the Charleston" med en drink i den ena handen och en cigarett i den andra.Det var nu den feministiska kampen sattes i rullning på allvar.
Mannen klädde sig också ledigare. Den sportiga stilen blev populär, jazz-kostymen var enklare, mindre styv och har stått som modell för mannens nutida standard kostym. I konsten var det art Noveau, mediabaserade verk t.ex. reklamaffisher och nya innovativa stilar som t.ex. Picasso som dominerade.



Bobbed hair


The 1920's was the first decennium when fashion really stepped in to the modern era and took the form it still has today. Fashion became a phenomenon with rapidly changing trends and maybe the most important thing- the courage to experiment and break boundaries like never before.
The first world war end the time after meant many changes both in society and socially. During the war the woman had taken over and handeled many of the former man-dominated work-formes. She had realised her potential and her socially sub-ordinated position. The post-war era was a time of revolution and optimism on many fields of society. The women wanted to re-define themselves and did this by taking a new social roll. The so called "flapper" style and living was one way to achieve this.
The women cut their hair short, in a so called bob, the corsette was thrown out and replaced by loose tube-like dresses. This way of dressing was more comfortable and free. As where the women, a flapper listened to jazz-music and danced "the Charleston" with a drink in one hand and a cigarette in the other. The feminist battle started.



Also the man dressed in a more casual way, a sporty style became popular and the jazz-suit was simplier and less strict. This modell is still the standard for suits today. In other cultural spheres art Noveau, mediabased works like commercial posters and artists such as Picasso dominated.