Veckans tema är Noras klänningar. Före jag visar er bilderna på Nora vill jag presentera Nora för er. Nora är en av mina (SS:s) goda vänner. Hon är en vacker person, inuti och utanpå. Naturen är liksom hennes andra hem. Vi brukar skämta om att hon antagligen har varit vara en skogsrå i sitt förra liv som gömmer sig i skogen och får orgasmer av alla naturfenomen. Hon är en person som inte äger en enda spegel i sitt hus. Hon använder varken smink eller några hårprodukter och det är lite därför hon har så otroligt bra, babylen hy och glansigt, friskt hår. Nora klär sig mycket i grönt, särskilt olivgrönt.

Jag var en dag hos Nora på våren och vädret var super. Vi gick in till Noras mormors hus och började gräva i kläderna på hennes vind. Noras mormors har nämligen varit otroligt duktig på att sy så där fanns massor med fina klänningar från 60-, 70-talet. Klänningarna har blivit sydda för Noras mamma och mostrar. Vissa var lite "hippieaktiga" och vissa stilrena. Hursomhelst var det skitkul att fota Nora som lika bra kunde vara modell.



Noras mormor och morfar. Noras granny and granpa.



Vi börjar med den här romantiska blå randiga 70-tals klänningen.
Let's start with this very romantic blue 70's dress.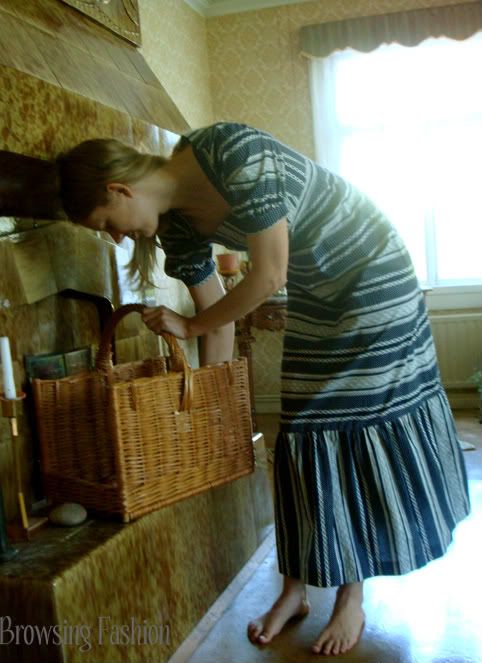 Our theme of this week is Noras dresses. But first I would like to introduce Nora to you. Nora is one of my (SS:s) good friends. She's a very beautiful person, both on the inside and outside. Nature is her second home. We use to laugh about that she's probably been a forest fairy in her previous life playing around and getting orgasms by all phenomenons of nature. She's the kind of person who doesn't own any mirrors in her house. She doesn't use neither make-up nor hairproducts. And I guess that's why she has such soft skin and healthy, shiny hair. Her favourite colour is green, especially olivegreen.

I was one day at Noras place this spring. The weather was perfect and we were going through stuff at her granny's attic. Her granny has been a really good seamstress so the attic was full of very beautiful and interesting dresses from the 60's and 70's. These dresses have been made for her mother and auntys when they were in their 20's. Some of the dresses were hippieish and some very cleancut. However it was great fun to take pictures of Nora who really could be a model.