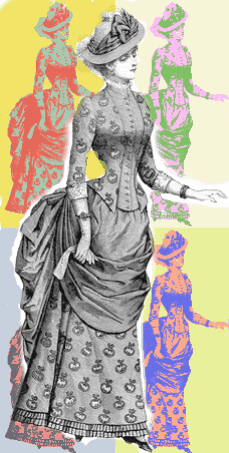 I slutet av 1800-talet och i början av 1900-talet var det enligt det redan länge rådande idealet kvinnas midja och höfter som stod i centrum. Den rätta kontrasten skapade man m.h.a. korsätter och olika volangeffekter samt stöd under kjolarna.
Det blev modernt att ge kjolen en bakåtpösande form, d.v.s. att man byggde kjolstödet och volangerna bakåt, till detta hörde ett långt släp.
Vid urringningen hade man antingen spetsar för att framhäva dekoletaget eller tvärtom ett övre klänningsstycke som i princip döljde all hud m.h.a. långa ärmar och en hög krage. Var man riktigt modemedveten hade man solfjäder eller parasoll, detta behöll den bleka, aristokratiska huden och fungerade som accesoarer.
Håret skulle vara högt uppsatt i en knut men med betoning på volym åt sidorna. Ville man vistas utomhus var det någon form av hatt som gällde, gärna med band, olika former av dekor och ett brett brätte för att skydda mot solbränna, hatten gjorde också så att figuren föreföll längre.
Vid sekelskiftet blev det populärt med slankare och rakare siluetter, midjan lyftes fortsättningsvis fram, men man lade större vikt vid axlar än höfter. Män bar kavaj, väst och byxor, samt hattar av olika slag. Hatten var inte bara en accessoar utan signalerade också till vilken samhällklass man hörde.


In the end of the 19 th century the most importatnt features to emphasize in fashion were the waistline and the hips. The right contrast was made by corsettes, different flounce-effects and volume-support under the skirts. It became fashionable to create a volume effect backwards, the flounces and the skirtsupport were thus built backwards to give the wanted illusion.
The decoletage was eather brought out by some decorations or entirely hidden by a high and tight collar. According to some style-directions no excess skin was to be shown. Popular accesories were sunfans and parasiolls, these were both a part of the look and practical in maintaing the pail, aristocratic look.
In hairstyle the sideway volume was most important, the hair was put up in a high knot and outside shield by different kind of hats. Many with a lot of decorations and often with a vide brim, this gave both protection from the sun and made the figure appear longer.
Around the shift from the 19 th to the 20 th centure the siluette became straighter and moore slender, the waist was still important but the shoulders became moore important than the hips. For men the style was simple, a suit, a west, throusers and hats. The hats were besides stylish also an indication of social class.